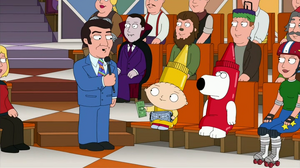 Monte Halparin, OC OM (born August 25, 1921), better known by the stage name Monty Hall, is a Canadian-born MC, producer, actor, singer and sportscaster, best known as host of the television game show Let's Make a Deal.
Stewie appears on Let's Make a Deal in a cutaway after bragging about being able to make a deal in "This Little Piggy". Monty asks for rouge and paper clips, which Stewie just happens to have in his purse to Brian's amazement that he has those items, in particular the purse.
Ad blocker interference detected!
Wikia is a free-to-use site that makes money from advertising. We have a modified experience for viewers using ad blockers

Wikia is not accessible if you've made further modifications. Remove the custom ad blocker rule(s) and the page will load as expected.