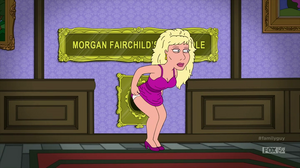 Morgan Fairchild (born Patsy Ann McClenny; February 3, 1950) is an American actress. known for her work in Murphy Brown, Flamingo Road Falcon Crest and Dallas.
When Peter abuses his plane priveleges in "Dammit Janet!", one of his requests is to see a Morgan Fairchild movie.
In a cutaway in "Once Bitten", Morgan is shown to have a "fart hole" in her house, which sends farts from Hollywood stars to Tom Sizemore's house.
Ad blocker interference detected!
Wikia is a free-to-use site that makes money from advertising. We have a modified experience for viewers using ad blockers

Wikia is not accessible if you've made further modifications. Remove the custom ad blocker rule(s) and the page will load as expected.