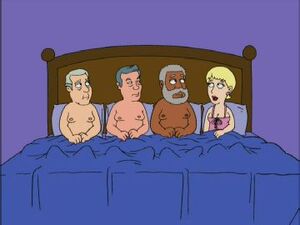 Morley Safer (November 8, 1931 - May 19, 2016) was a Canadian reporter and correspondent for CBS News. He was best known for his long tenure on the news magazine 60 Minutes, the cast of which he joined in December 1970, during the third season of the series.
In "Death Is a Bitch", Peter and Lois watch 60 Minutes After Dark, a combination of 60 Minutes and the raunchy variety show Playboy After Dark. It shows 60 Minutes anchors Morley Safer, Mike Wallace, Ed Bradley, and Lesley Stahl in bed together, with Stahl commenting on how "one of you is hung like an elf." The rest of the group look at Morley Safer.
Ad blocker interference detected!
Wikia is a free-to-use site that makes money from advertising. We have a modified experience for viewers using ad blockers

Wikia is not accessible if you've made further modifications. Remove the custom ad blocker rule(s) and the page will load as expected.