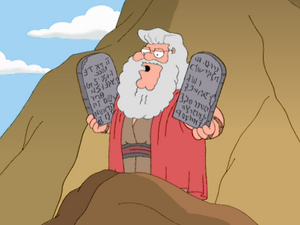 Moses Griffin was, according to "Untitled Griffin Family History", a religious leader, lawgiver, and prophet, to whom the authorship of the Torah is traditionally attributed. He received the Torah and the Ten Commandments after leading the Jews out of Egypt. He is a blatant parody of the Hebrew prophet Moses.
He, like descendant Peter Griffin, was voiced by Seth MacFarlane.
Ad blocker interference detected!
Wikia is a free-to-use site that makes money from advertising. We have a modified experience for viewers using ad blockers

Wikia is not accessible if you've made further modifications. Remove the custom ad blocker rule(s) and the page will load as expected.