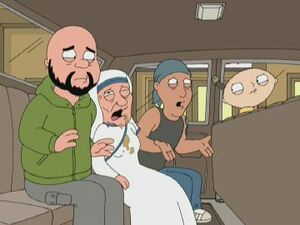 Mother Teresa (August 26, 1910 – September 5, 1997), was an Albanian Roman Catholic nun with Indian citizenship who founded the Missionaries of Charity in Kolkata (Calcutta), India in 1950. For over 45 years she ministered to the poor, sick, orphaned, and dying, while guiding the Missionaries of Charity's expansion, first throughout India and then in other countries. She won a Nobel Peace Prize in 1979.
In "Peter's Two Dads", Stewie Griffin comments on not being so scared by Lois hitting him since Mother Teresa overdosed in his car. The cutaway shows him dumping Mother Teresa outside a hospital.
Ad blocker interference detected!
Wikia is a free-to-use site that makes money from advertising. We have a modified experience for viewers using ad blockers

Wikia is not accessible if you've made further modifications. Remove the custom ad blocker rule(s) and the page will load as expected.