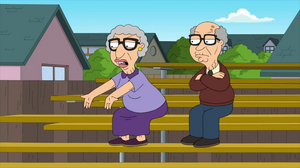 Mr. and Mrs. Goldman are Mort Goldman's parents.
They attend a softball game when Mort's pharmacy plays a team from The Drunken Clam in "Save the Clam". As Mort tries to encourage his ringer Jerome to get a hit so he can bring a sports trophy home to his parents, his mother yells out that Jeffery Lipschitz has two soccer medals. Mort objects, pointing out that he can't play soccer because he has newborn calf ankles.
Ad blocker interference detected!
Wikia is a free-to-use site that makes money from advertising. We have a modified experience for viewers using ad blockers

Wikia is not accessible if you've made further modifications. Remove the custom ad blocker rule(s) and the page will load as expected.