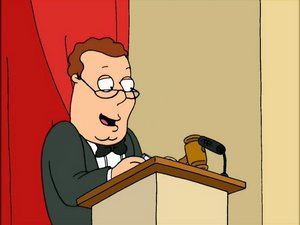 Mr. Brandywine is the head of the Newport, Rhode Island Historical Society. In "Peter, Peter, Caviar Eater", he conducts a benefit auction for the society in which Peter Griffin bids one hundred million dollars for a vase. When Peter realizes later that he doesn't have the money, he tries to convince Mr. Brandywine to take Cherrywood Manor instead by claiming a lot of false history happened in the mansion. Peter succeeds only then the uncover a secret panel and discover Cherrywood was the first presidential whorehouse.
Mr. Brandywine is voiced by Bill Escudier.
Ad blocker interference detected!
Wikia is a free-to-use site that makes money from advertising. We have a modified experience for viewers using ad blockers

Wikia is not accessible if you've made further modifications. Remove the custom ad blocker rule(s) and the page will load as expected.