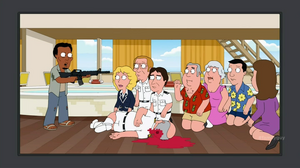 Mr. Devlin is a passenger on The Love Boat when it is taken hostage by Somali pirates in "Brian's a Bad Father".
When the pirates kill Captain Stubing after he points out some of the responsibilities he has such as convincing Mr. Devlin that he still loves his wife, the pirates tell Mr. Devlin to go skinny-dipping with his wife like they did when they were kids.
Ad blocker interference detected!
Wikia is a free-to-use site that makes money from advertising. We have a modified experience for viewers using ad blockers

Wikia is not accessible if you've made further modifications. Remove the custom ad blocker rule(s) and the page will load as expected.