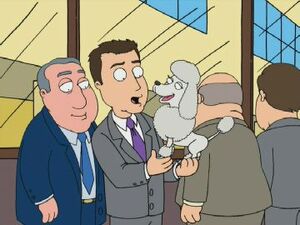 Mr. Harrison was the CEO of the El Dorado Cigarette Company. He appeared in "Mr. Griffin Goes to Washington" where his company buys the Happy-Go-Lucky Toy Factory. Later, when Peter begins to question the companies actions, he promotes Peter to President of the company to advert his attention. When he hears that Congress his planning on passing an anti-smoking bill, he sends Peter to Washington to convince them otherwise. He finally appears at the Press hearing where his company is fined 100 million dollars by Congress.
Ad blocker interference detected!
Wikia is a free-to-use site that makes money from advertising. We have a modified experience for viewers using ad blockers

Wikia is not accessible if you've made further modifications. Remove the custom ad blocker rule(s) and the page will load as expected.