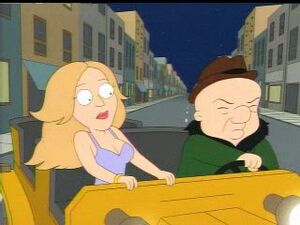 Quincy Magoo (or simply Mr. Magoo) is a cartoon character created at the UPA animation studio in 1949. Voiced by Jim Backus, Magoo is a wealthy, short-statured retiree who gets into a series of sticky situations as a result of his nearsightedness, or myopia, compounded by his stubborn refusal to admit the problem. Affected people (or animals) consequently tend to think that he is a lunatic, rather than just being nearsighted. In later cartoons he is also an actor, and generally a competent one except for his visual impairment.
Afraid of going to jail for drunk driving, Lindsay Lohan takes the rap for his erratic driving in "We Love You, Conrad". He was voiced by Seth MacFarlane.
Ad blocker interference detected!
Wikia is a free-to-use site that makes money from advertising. We have a modified experience for viewers using ad blockers

Wikia is not accessible if you've made further modifications. Remove the custom ad blocker rule(s) and the page will load as expected.