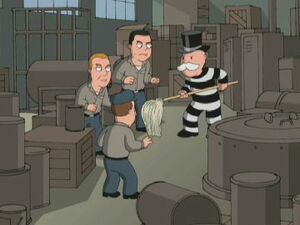 Rich Uncle Pennybags is the rotund old man in a top hat who serves as the mascot of the game Monopoly. Rich Uncle Pennybags was rechristened Mr. Monopoly, the nickname by which he was already popularly known, in a Hasbro marketing effort in 1999. He also is known as Whiff from all the casino slot machines. He also appears in the related games Advance to Boardwalk, Free Parking, Don't Go To Jail, Monopoly City, Monopoly Junior, and Monopoly Deal.
The character first appeared on Chance and Community Chest cards in U.S. editions of Monopoly in 1936.
Pennybags appears in a "McStroke" cutaway. In a parody of The Shawshank Redemption, he is beaten up by three homosexual prisoners who want to rape him. As declared by Morgan Freeman, he had no chance of winning.
Peter jokes with Mahmoud while in the hospital in "Turban Cowboy" that Mr. Monopoly would look funny wearing Islamic headgear.