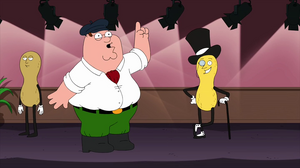 Mr. Peanut is the advertising logo and mascot of Planters, an American snack-food company and division of Kraft Foods. He is depicted as an anthropomorphic peanut in its shell dressed in the formal clothing of an old-fashioned gentleman: a top hat, monocle, white gloves, spats, and a cane.
Peter sets up a cutaway in "The Book of Joe" to prove himself a good judge of talent, having "discovered" Mr. Peanut.
Ad blocker interference detected!
Wikia is a free-to-use site that makes money from advertising. We have a modified experience for viewers using ad blockers

Wikia is not accessible if you've made further modifications. Remove the custom ad blocker rule(s) and the page will load as expected.