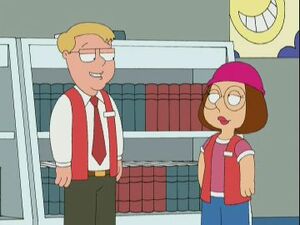 Mr. Penisberg was manager of the Superstore USA in Quahog in "Hell Comes to Quahog". When he orders Meg Griffin to fire her father Peter she refuses. He later meets his demise in the bathroom when crushed by a sign when Stewie and Brian destroy the store, in a Jurassic Park parody.
Ad blocker interference detected!
Wikia is a free-to-use site that makes money from advertising. We have a modified experience for viewers using ad blockers

Wikia is not accessible if you've made further modifications. Remove the custom ad blocker rule(s) and the page will load as expected.