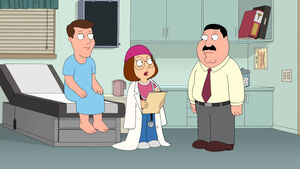 Mr. Saunders is a patient of Dr. Hartman's. Dr. Hartman mistakenly thought his name was "Mr. Pat-see-ent" while trying to say "Patient". When corrected, Dr. Harman can only comment on how strange his name sounds. When Dr. Harman shows Meg around the hospital as an intern in "You Can't Do That On Television, Peter", she proves to be more competent than Dr. Hartman, giving sound advice to Mr. Saunders to stop smoking.
Ad blocker interference detected!
Wikia is a free-to-use site that makes money from advertising. We have a modified experience for viewers using ad blockers

Wikia is not accessible if you've made further modifications. Remove the custom ad blocker rule(s) and the page will load as expected.