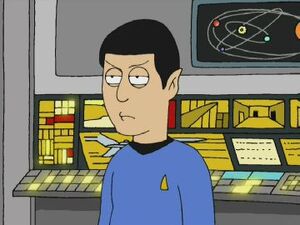 Mr. Spock is a character in the fictional Star Trek media franchise. First portrayed by Leonard Nimoy in the original Star Trek series, Spock also appears in the animated Star Trek series, two episodes of Star Trek: The Next Generation, seven of the Star Trek feature films, and numerous Star Trek books, comics, and video games. In the 2009 film, Star Trek, Nimoy reprised his role alongside Zachary Quinto, who played a younger alternate reality version of the character.
He is part of the away team consisting of him, Captain Kirk, Dr. McCoy, and Ensign Ricky in "I Never Met the Dead Man".
Darth Vader, portrayed by Stewie Griffin, smashes Nimoy's mailbox with a baseball bat in Something, Something, Something, Dark Side.
Spock wins the space lottery in "Extra Large Medium" and promptly tells the whole crew to "Live long and suck it".
Peter watches an Italian version of Star Trek in "Boopa-Dee Bappa-Dee" in which Mr. Spock is depicted in a dirty wife beater t-shirt, struggling to control his temper.
When Brian kisses Bonnie Swanson in "The Heartbreak Dog", he claims to have become a bigger scumbag than Spock. A cutaway shows two female officers taking to each other. Mr. Spock interrupts them to make a vaguely obscene gesture and face at them.
Ad blocker interference detected!
Wikia is a free-to-use site that makes money from advertising. We have a modified experience for viewers using ad blockers

Wikia is not accessible if you've made further modifications. Remove the custom ad blocker rule(s) and the page will load as expected.