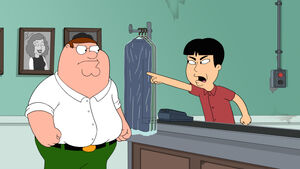 Mr. Washee Washee is the owner of Super Cowboy USA Hot Dog Rocket Ship American Cleaners Number One. He supposedly stole a shirt that belonged to Peter Griffin in "Tiegs for Two". He is angered by Peter so much that he bans him from the store. Peter later apologized to Washee Washee and invited him for dinner. There, Peter brings up the shirt, once again angering Washee Washee, who then bans the entire Griffin family. Later, Peter invades Washee Washee's home only to discover that a similar white shirt isn't Peter's. Peter begins fighting Mr. Washee Washee in a fashion similar to Street Fighter II, which ends in Peter ultimately losing and ending up in jail.
Lois, had been using Mr. Washee Washee's dry cleaners for 10 years. It is shown that he is a fan of Star Trek, but focuses solely on the Mr. Sulu character.
Washee Washee is voiced by Robert Wu.
Ad blocker interference detected!
Wikia is a free-to-use site that makes money from advertising. We have a modified experience for viewers using ad blockers

Wikia is not accessible if you've made further modifications. Remove the custom ad blocker rule(s) and the page will load as expected.