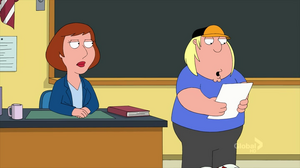 Mrs. Donovan is one of Chris' teachers.
When she has him read an essay that he prepared for class in "Space Cadet", his essay is titled "Following Mrs. Donovan" and consists of her routine after school including putting on sweat pants and eating a tub of cookie dough. Chis comes to the conclusion that she must be allergic from her tears and because she always throws up afterwards. Then he notes that she also puts paper doll clothes on a sonogram. When Mrs. Donvan puts a halt to his essay, Chris complains that he's not Nathaniel Hawthorne.
Ad blocker interference detected!
Wikia is a free-to-use site that makes money from advertising. We have a modified experience for viewers using ad blockers

Wikia is not accessible if you've made further modifications. Remove the custom ad blocker rule(s) and the page will load as expected.