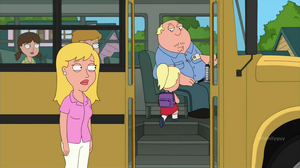 Mrs. Roberts is the mother of a school-aged girl in a cutaway gag set up by Chris in "Stewie, Chris & Brian's Excellent Adventure".
Chris imagines that if he fails his history class test, he will end up as a bus driver that parents don't completely trust. As the little girl gets onto the bus, Chris tells Mrs. Roberts that the child is beautiful, which makes her uneasy.
Ad blocker interference detected!
Wikia is a free-to-use site that makes money from advertising. We have a modified experience for viewers using ad blockers

Wikia is not accessible if you've made further modifications. Remove the custom ad blocker rule(s) and the page will load as expected.