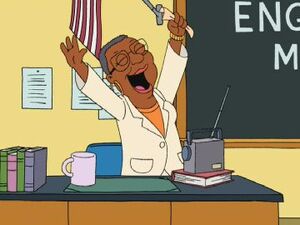 Ms. Clifton is a former teacher of Chris Griffin at Buddy Cianci Junior High School. She won the lottery in "Fast Times at Buddy Cianci Jr. High". She quickly ran out of the classroom to collect her winnings and quickly resigned and retired. Initially, Brian was chosen to replace her temporarily, but his assignment was switched. Brian was replaced with Mrs. Lockhart.
Ms. Clifton is voiced by Juanita Jennings.
Ad blocker interference detected!
Wikia is a free-to-use site that makes money from advertising. We have a modified experience for viewers using ad blockers

Wikia is not accessible if you've made further modifications. Remove the custom ad blocker rule(s) and the page will load as expected.