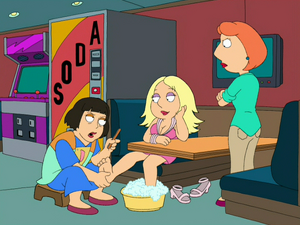 Ms. Swan is a character that Alex Borstein created and portrayed while a castmember on MADtv.
She briefly appears in "Don't Make Me Over" on the Griffin bus giving Meg Griffin a pedicure while Lois (also portrayed by Borstein), looks on. Swan later appears on the set of Saturday Night Live with everyone else who appeared in the episode when Peter does the customary goodbyes in place of show host, Jimmy Fallon. Borstein reprised the role.
Borstein also reprised the role for a parody of the film, Black Swan, called "Black Ms. Swan"[1]. The film it parodies, stars fellow Family Guy castmember Mila Kunis, and writer John Viener also appeared.