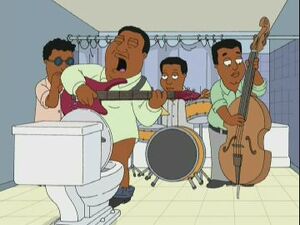 McKinley Morganfield (April 4, 1913 – April 30, 1983), known as Muddy Waters, was an American blues musician, generally considered the Father of modern Chicago blues. Blues musicians Big Bill Morganfield and Larry "Mud Morganfield" Williams are his sons. A major inspiration for the British blues explosion in the 1960s, Muddy was ranked #17 in Rolling Stone magazine's list of the 100 Greatest Artists of All Time.
He musically passes a kidney stone in "Saving Private Brian". He was voiced by Phil LaMarr.
Ad blocker interference detected!
Wikia is a free-to-use site that makes money from advertising. We have a modified experience for viewers using ad blockers

Wikia is not accessible if you've made further modifications. Remove the custom ad blocker rule(s) and the page will load as expected.