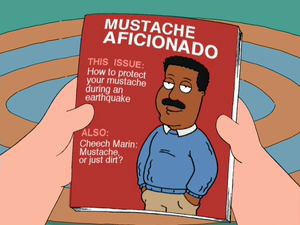 Mustache Aficionado is an American weekly magazine that centers on mustaches and is aimed at mustache experts. Peter Griffin found it in Cleveland Brown's mailbox in "McStroke", as Brown was at least at the time, a subscriber.
In that week's issue, there was a story written questioning the validity of Cheech Marin's mustache. The magazine also ran a story that would help a man protect his mustache during an earthquake. As Griffin reads it, he becomes so fascinated by the mustachioed lifestyle that he decides to grow his own mustache.
Ad blocker interference detected!
Wikia is a free-to-use site that makes money from advertising. We have a modified experience for viewers using ad blockers

Wikia is not accessible if you've made further modifications. Remove the custom ad blocker rule(s) and the page will load as expected.