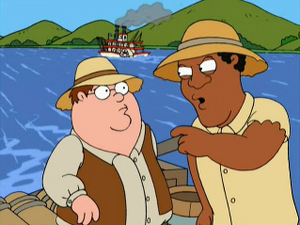 N-Word Jim, known in the African American community as Nigger Jim, is the former slave of Miss Watson in Mark Twain's The Adventures of Huckleberry Finn. Finn and Jim would eventually become friends.
In "I Am Peter, Hear Me Roar", he reprimands Huck Griffin for calling him "Nigger Jim", because it is not accepted by black people for white people to call them niggers. When Griffin asked for an oar, he used the correct name, and the two reconciled.
Ad blocker interference detected!
Wikia is a free-to-use site that makes money from advertising. We have a modified experience for viewers using ad blockers

Wikia is not accessible if you've made further modifications. Remove the custom ad blocker rule(s) and the page will load as expected.