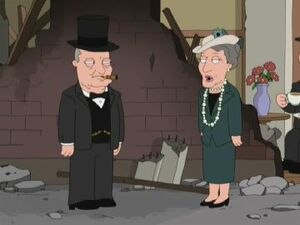 Nancy Witcher Astor, Viscountess Astor, CH, (19 May 1879 – 2 May 1964) was the first woman to sit as a Member of Parliament (MP) in the British House of Commons. Nancy Astor represented the Conservative Party and was the wife of Waldorf Astor, 2nd Viscount Astor.
Lady Astor is nearly as famous for her scathing wit as she is for her political career. Many of her best known quotes are indicative of her personal and political views, such as feminism, temperance, and conservatism; others are merely humorous. One of the more famous exchanges that Lady Astor is purported to have had with Churchill is as follows: "Winston, you are drunk." To which Churchill responded, "And you, madam, are ugly. But I shall be sober in the morning." In fact, Churchill was talking to Bessie Braddock, a Labour Member of Parliament.
In "Road to Germany", she finds Winston Churchill drunk. Churchill proceeds to call her a fat bitch. On the DVD, she is called a cunt.