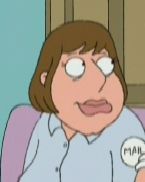 Nancy the Postal Lady is Spooner Street's mail carrier. She first appeared in "Death Has a Shadow", delivering welfare checks to Peter Griffin, and gave one to his wife Lois, with both not knowing that Peter was committing welfare fraud.
She tried out for Peter's production of The King and I in "The King Is Dead". She is seen in uniform trying to find out what part she was cast in.
Nancy delivers Brian and Stewie's glue solvent in "Stuck Together, Torn Apart".
She was later one of Griffin's Mormon wives in "The Father, the Son, and the Holy Fonz". She is also frequently seen in crowd scenes and in the courtroom. She may have been killed as Peter dragged multiple trash cans to the curb after being reminded by his Mormon wives that he couldn't be a Mormon and drink alcoholic beverages.
She is voiced by Lori Alan.