Meg has no lines in this episode. Vocal performances for this season are limited due to Mila Kunis' pregnancy with son Dimitri born in November 2016, with her husband Ashton Kutcher.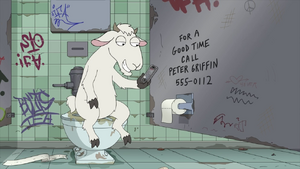 Peter's phone number is given as 555-0112. Seamus is given the same number in "Follow the Money".
Vintage recordings of "She'll Be Coming 'Round the Mountain" and "Oh My Darling, Clementine" play in Top Gun featuring only public domain music.
The song in the "Independent movie sex" gag is "Walking on Sunshine".
Peter and Lois' car ride home is accompanied by "So Far Away" by Carole King.
Natalia reads Goodnight Moon of Chernobyl and Everybody Poops Blood to Stewie, riffing on two frequently mentioned books in the show.
Lois' past experience as a piano teacher is recalled as Peter notes that her piano is now covered in clutter.
The voice actor for the waiter at Wu's Chinese Restaurant is named Robert Wu.
Lois asks Donna if she's seen Black-ish, and then follows that up by asking the Chinese waiter if he's seen Fresh Off the Boat and Mort Goldman if he's seen The Goldbergs, shows which drawn on racial stereotypical humor. All three shows are on the ABC network.
The jet on which Natalia escapes is white with a red-green stripe, red and green being the colors of the Belarusian flag.[1]
Despite taking a bullet to the upper body, Brian appears to be fully recovered by the time the Griffins return from their weekend getaway.
A scene features Peter forced to change a tire on his car in high desert, which is significantly out of reach for a weekend trip from Rhode Island.