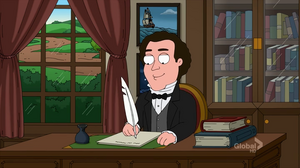 Nathaniel Hawthorne (born Nathaniel Hathorne; July 4, 1804 – May 19, 1864) was an American novelist and short story writer. His works include The House of the Seven Gables and The Scarlett Letter.
When Chris presents a poorly written presentation for class in "Space Cadet", he complains of not being Nathaniel Hawthorne. Nathaniel Hawthorne is seen chuckling over ruining ninth grade for everyone as he writes a story.
Ad blocker interference detected!
Wikia is a free-to-use site that makes money from advertising. We have a modified experience for viewers using ad blockers

Wikia is not accessible if you've made further modifications. Remove the custom ad blocker rule(s) and the page will load as expected.