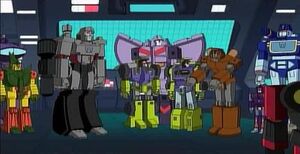 Negatron is a member of the Decepticons with the attitude that nothing will ever go right for them. When Megatron is trying to rally the Decepticons in "Tiegs for Two" into another scheme, he is shot down by Negatron. Megatron points out that his only power is to turn into a canoe, and Negatron says they'll regret needing him if they have to battle on a slow-moving stream.
It should be noted that Negatron is a Family Guy original creation and not an original Transformer.
He is voiced by Alec Sulkin.
Ad blocker interference detected!
Wikia is a free-to-use site that makes money from advertising. We have a modified experience for viewers using ad blockers

Wikia is not accessible if you've made further modifications. Remove the custom ad blocker rule(s) and the page will load as expected.