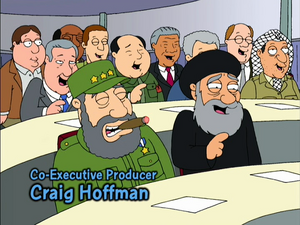 Nelson Rolihlahla Mandela (18 July 1918 - 5 December 2013) served as President of South Africa from 1994 to 1999, and was the first South African president to be elected in a fully representative democratic election. Before his presidency, Mandela was an anti-apartheid activist, and the leader of Umkhonto we Sizwe, the armed wing of the African National Congress (ANC). In 1962 he was arrested and convicted of sabotage and other charges, and sentenced to life in prison. Mandela served 27 years in prison, spending many of these years on Robben Island. Following his release from prison on 11 February 1990, Mandela led his party in the negotiations that led to multi-racial democracy in 1994. As president from 1994 to 1999, he frequently gave priority to reconciliation.
Mandela appears in "He's Too Sexy for His Fat" in Stewie's dream of demanding the United Nations surrender to him, only to dream that he is naked in his dream.
Lisa Simpson quotes Nelson Mandela in "The Simpsons Guy".