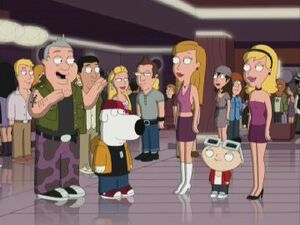 New Bedford is Dakota`s best friend with short, blond hair. She, Dakota, Brian and Frank Sinatra, Jr.. appeared in "Tales of a Third Grade Nothing" in Brian and Frank's club pLace. New Bedford thinks Brian and Frank are rappers, but they're not black, which, according to New Bedford, is good.
New Bedford is voiced by Elisha Cuthbert.
Ad blocker interference detected!
Wikia is a free-to-use site that makes money from advertising. We have a modified experience for viewers using ad blockers

Wikia is not accessible if you've made further modifications. Remove the custom ad blocker rule(s) and the page will load as expected.