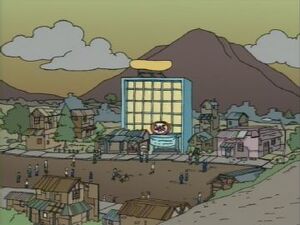 New Quahog is a fictional location in post-Y2K Massachusetts. When the Griffin Family leaves Quahog because of Y2K in "Da Boom", they relocate to Natick, Massachusetts. Peter takes it upon himself to rename this town New Quahog and become Mayor for life.
Peter is totally inept at his job. He has all citizens in town pick their job randomly from a hat, ignoring any skills they have or don't have such as making an elderly woman work as the fire department.
He, along with the rest of the family, are later kicked out after he chooses manufacturing guns from the water system pipes. Soon after this, mutant Stewie's eggs hatch and attack New Quahog, which in its attempt to destroy the guns, finds itself defenseless.
Ad blocker interference detected!
Wikia is a free-to-use site that makes money from advertising. We have a modified experience for viewers using ad blockers

Wikia is not accessible if you've made further modifications. Remove the custom ad blocker rule(s) and the page will load as expected.