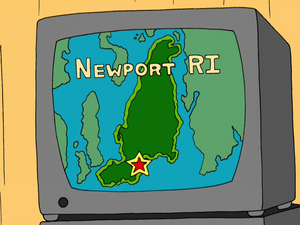 Newport is a city on Aquidneck Island in Newport County, Rhode Island, United States, about 30 miles or 48 kilometers south of Providence. Known as a New England summer resort and for the famous Newport Mansions, it is the home of Salve Regina University.
Marguerite Pewterschmidt lived in a mansion here, which her niece, Lois Griffin later inherited in "Peter, Peter, Caviar Eater".
In "Partial Terms of Endearment", it was revealed that Lois attended Salve Regina College.
In "Meet the Quagmires", it was revealed that a country club is located here. Cleveland Brown and Peter Griffin worked here, and Lois Pewterschmidt was a member in 1984.
Peter's birth certificate in "Quagmire's Mom" reveals that he was born in Quahog, located in Newport County.