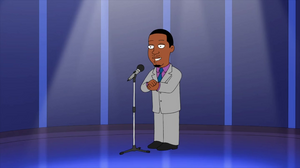 Nicholas Scott "Nick" Cannon (born October 8, 1980) is an American actor, comedian, rapper, and radio/television personality. On television, Cannon began as a teenager on All That before going on to host The Nick Cannon Show, Wild 'N Out, and America's Got Talent. He acted in the films Drumline, Love Don't Cost a Thing, and Roll Bounce.
Nick appears as himself on America's Got Talent when Peter performs an audition when he accidentally gets Stewie's harmonica stuck in his rectum in "No Country Club for Old Men".
Ad blocker interference detected!
Wikia is a free-to-use site that makes money from advertising. We have a modified experience for viewers using ad blockers

Wikia is not accessible if you've made further modifications. Remove the custom ad blocker rule(s) and the page will load as expected.