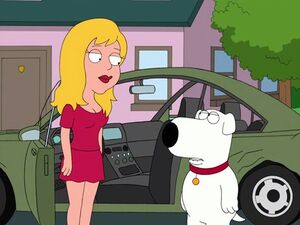 Nicole is Rita's daughter, the woman Brian almost dates, and does date the latter in "Brian's Got a Brand New Bag". When Peter rear-ends her car while driving by kicking the steering wheel with his feet, Brian asks Nicole out. When he shows up for their date, he finds out from her mother Rita that she left with some other guy so Brian ends up taking out Rita instead. She later shows up taking three large black men to her room.
Nicole is voiced by Aimee Garcia.
Ad blocker interference detected!
Wikia is a free-to-use site that makes money from advertising. We have a modified experience for viewers using ad blockers

Wikia is not accessible if you've made further modifications. Remove the custom ad blocker rule(s) and the page will load as expected.