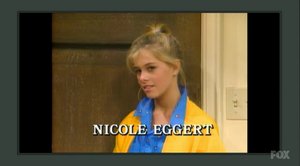 Nicole Elizabeth Eggert (born January 13, 1972) is an American actress. Notable roles include Jamie Powell in the television series Charles in Charge and Summer Quinn in the TV series Baywatch. She was most recently a contestant on the VH1 reality show Celebrity Fit Club.
She appears in "New Kidney in Town" as Powell in the opening theme for Charles in Charge.
Ad blocker interference detected!
Wikia is a free-to-use site that makes money from advertising. We have a modified experience for viewers using ad blockers

Wikia is not accessible if you've made further modifications. Remove the custom ad blocker rule(s) and the page will load as expected.