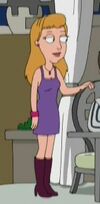 Nicole Camille Richie is an American actress, author, socialite, celebutante, singer, and television personality. The adopted daughter of soul singer Lionel Richie, she is perhaps best known for her role in the FOX reality television series The Simple Life, alongside fellow socialite Paris Hilton.
Richie makes a very brief appearance at Hilton's party in "I Dream of Jesus".
Ad blocker interference detected!
Wikia is a free-to-use site that makes money from advertising. We have a modified experience for viewers using ad blockers

Wikia is not accessible if you've made further modifications. Remove the custom ad blocker rule(s) and the page will load as expected.