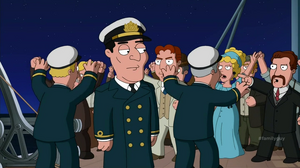 Nigel Harpington was a former officer on the RMS Titanic and ancestor to Chris' history teacher in "Stewie, Chris & Brian's Excellent Adventure". When the boys find themselves on the Titanic during its sinking, they are denied access to a lifeboat by Nigel. Chris bulls his way onto the boat, shoving Nigel overboard where he drowns. The change in history results in Chis getting a new history teacher who doesn't believe in tests.
Ad blocker interference detected!
Wikia is a free-to-use site that makes money from advertising. We have a modified experience for viewers using ad blockers

Wikia is not accessible if you've made further modifications. Remove the custom ad blocker rule(s) and the page will load as expected.