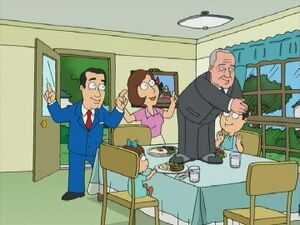 Nikita Sergeyevich Khrushchev (April 15, 1894 – September 11, 1971) led the Soviet Union during part of the Cold War. He served as General Secretary of the Communist Party of the Soviet Union from 1953 to 1964, following the death of Joseph Stalin, and Chairman of the Council of Ministers from 1958 to 1964. Khrushchev's party colleagues removed him from power in 1964, replacing him with Leonid Brezhnev.
In "Dammit Janet!", he makes a cameo on the fictional sitcom called The Communists.
Ad blocker interference detected!
Wikia is a free-to-use site that makes money from advertising. We have a modified experience for viewers using ad blockers

Wikia is not accessible if you've made further modifications. Remove the custom ad blocker rule(s) and the page will load as expected.