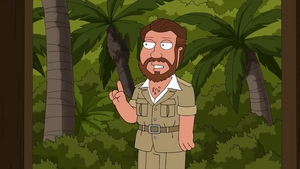 Noel is a relationship counselor at a Bahamas retreat that the wives trick the guys into attending in "Take My Wife".
Upset at being tricked, the guys only halfheartedly participate, but when Noel suggests new parings, they are more receptive, especially Peter who is matched with Quagmire's hot date, Kimi. But when a revolt seemingly breaks out, Noel appears to be shot and killed as the couples run for safety, but are soon captured. They are threatened with execution and each original couple is led outside as gunshots are heard, but after Lois and Peter say their loving goodbyes as the last couple, it is revealed to all be part of the counseling and Noel is very much alive.
Noel is voiced by John Viener.