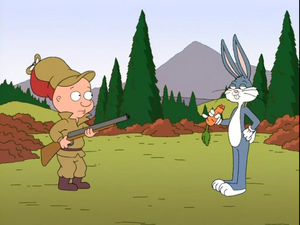 Noel Barton Blanc (born October 19, 1939) is a voice actor, who is the son of the late voice legend, Mel Blanc. Throughout Noel's childhood and early adulthood, he worked with his father on the Looney Tunes voices so that when the time came, he could take over for his father. After Mel's death, Noel took over and did the voices for the Looney Tunes but has since retired from full-time voice acting.
He provided the voice for Elmer Fudd in Stewie Griffin: The Untold Story.
Ad blocker interference detected!
Wikia is a free-to-use site that makes money from advertising. We have a modified experience for viewers using ad blockers

Wikia is not accessible if you've made further modifications. Remove the custom ad blocker rule(s) and the page will load as expected.