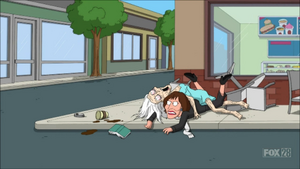 Nora Ephron (May 19, 1941 - June 26, 2012) was an American film director, producer, screenwriter, novelist, playwright, journalist, author, and blogger. She is best known for her romantic comedies and is a triple nominee for the Academy Award for Writing Original Screenplay for three films: Silkwood, When Harry Met Sally... and Sleepless in Seattle.
When James Woods is rejuvenated following his death in "And Then There Were Fewer" with the sacrifice of a young would-be starlet in "Tom Tucker: The Man and His Dream", he disposes of her body by throwing it at Nora Ephron, yelling at her to stop making Jack Nicholson a pansy to which she replies that he is confusing her with Nancy Meyers.
Nora is voiced by Melissa Villasenor.
Ad blocker interference detected!
Wikia is a free-to-use site that makes money from advertising. We have a modified experience for viewers using ad blockers

Wikia is not accessible if you've made further modifications. Remove the custom ad blocker rule(s) and the page will load as expected.