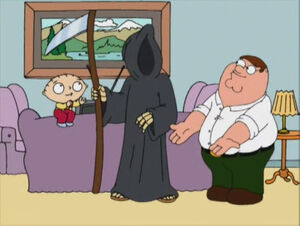 Norman Gene "Norm" MacDonald is a Canadian comedian, actor and professional poker player. He is known for his three years anchoring Saturday Night Live's Weekend Update segment.
MacDonald voiced Death in "Death Is a Bitch". He was unable to reprise the role, as he was committed to A Minute with Stan Hooper. The role was given to Adam Carolla.
Ad blocker interference detected!
Wikia is a free-to-use site that makes money from advertising. We have a modified experience for viewers using ad blockers

Wikia is not accessible if you've made further modifications. Remove the custom ad blocker rule(s) and the page will load as expected.