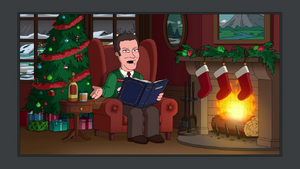 Norman Gene "Norm" MacDonald is a Canadian comedian, actor and professional poker player, known for his three years anchoring Saturday Night Live's Weekend Update segment as well as The Orville.
MacDonald voiced Death in "Death Is a Bitch". He was unable to reprise the role, as he was committed to A Minute with Stan Hooper. The role was given to Adam Carolla.
Norm appears as himself in "Don't Be a Dickens At Christmas" reading "'Twas the Night Before Christmas" on television, but has issues with the word "'Twas."