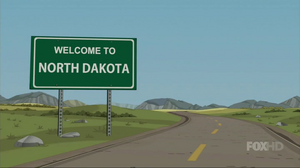 North Dakota is the 39th state of the United States, having been admitted to the union on November 2, 1889.
It is located in the Upper Midwestern region of the United States, bordered by the Canadian provinces of Saskatchewan and Manitoba to the north, the states of Minnesota to the east, South Dakota to the south, and Montana to the west. The state capital is Bismarck, and the largest city is Fargo.
Peter touts his business experience creating ads for the North Dakota Board of Tourism in "Baking Bad". In the ads, he paints a less than rosy picture of North Dakota, but admits there is little competition for personalized license plates. The ad finishes by pointing out that North Dakota isn't the good Dakota.