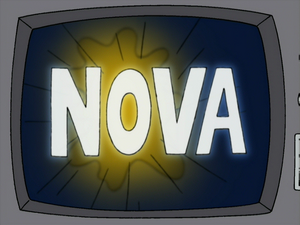 Nova is a popular science television series from the U.S. produced by WGBH Boston. It can be seen on the Public Broadcasting Service (PBS) in the United States, and in more than 100 other countries.
In "The Son Also Draws", Brian Griffin watches an episode of the show before changing channels to a One Day at a Time marathon.
Mr. Berler starts to show a Nova episode that he taped at home in "Brian Sings and Swings", only to find the recording cut out, leaving mostly footage of him having sex with his wife.
Ad blocker interference detected!
Wikia is a free-to-use site that makes money from advertising. We have a modified experience for viewers using ad blockers

Wikia is not accessible if you've made further modifications. Remove the custom ad blocker rule(s) and the page will load as expected.