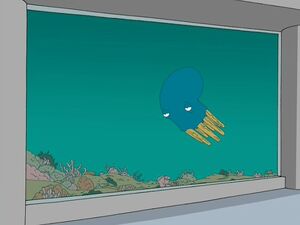 Ol' Woody is an octopus at the Quahog aquarium. After Seamus tackles an octopus that attacks Peter Griffin in Bill and Peter's Bogus Journey, he mentions that he used the same technique to capture "Ol' Woody over thar". All of Woody's tentacles have been replaced by peg legs, making him appear similar to Seamus. When he moves, the peg legs creak loudly. It is unknown if he lost his tentacles in his fight with Seamus, or if the peg legs existed beforehand.
Ad blocker interference detected!
Wikia is a free-to-use site that makes money from advertising. We have a modified experience for viewers using ad blockers

Wikia is not accessible if you've made further modifications. Remove the custom ad blocker rule(s) and the page will load as expected.