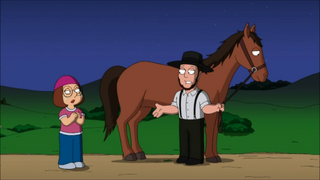 Old Dumper is a horse owned by an Amish gentleman who passes by after Eli's father Ezekiel orders Meg Griffin to stay away from his son in "Amish Guy". As Old Dumper's owner tries to comfort Meg, Old Dumper lives up to his name and repeatedly defecates on Meg.
Ad blocker interference detected!
Wikia is a free-to-use site that makes money from advertising. We have a modified experience for viewers using ad blockers

Wikia is not accessible if you've made further modifications. Remove the custom ad blocker rule(s) and the page will load as expected.