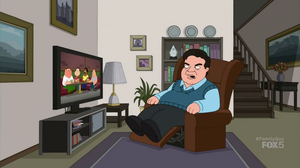 Oliver James Platt (born January 12, 1960) is a Canadian-born American actor, nominated for a Golden Globe Award, as well as multiple Emmy and Screen Actors Guild Awards for his work in films such as Married to the Mob, Working Girl and Flatliners.
In "Underage Peter", Joe notes that Peter looks like Oliver Platt climbing a flight of stairs after trying Cleveland's hot sauce. Oliver, watching at home, objects and threatens to call the network, but when he finds out from his wife that the phone is upstairs, brushes off retrieving it.
Ad blocker interference detected!
Wikia is a free-to-use site that makes money from advertising. We have a modified experience for viewers using ad blockers

Wikia is not accessible if you've made further modifications. Remove the custom ad blocker rule(s) and the page will load as expected.