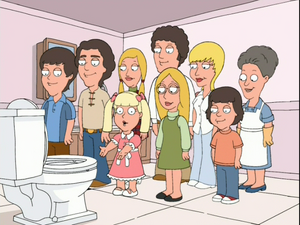 Olivia Hack (born June 16, 1983) is an American voice actress best known for providing the voice of Rhonda Wellington Lloyd in Nickelodeon's Hey Arnold!, and played Cindy Brady in the 90's theatrical Brady Bunch films. She has also done voices for Fillmore!, Bratz, Blood+ and Avatar: The Last Airbender. She appeared in Star Trek Generations, Party of Five, and Gilmore Girls.
Olivia has provided the voice of Cindy Brady of The Brady Bunch in "Holy Crap", "Brian Does Hollywood", "Mr. Griffin Goes to Washington" and "PTV".
Ad blocker interference detected!
Wikia is a free-to-use site that makes money from advertising. We have a modified experience for viewers using ad blockers

Wikia is not accessible if you've made further modifications. Remove the custom ad blocker rule(s) and the page will load as expected.