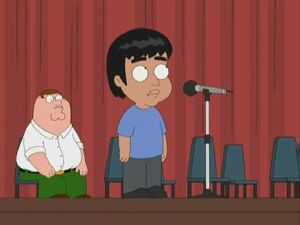 Omar is a student at Martin Mull Elementary School . He was in Peter Griffin's third grade class when it was required by the Pawtucket Brewery for Griffin to complete the grade to get a promotion. He was Griffin's main competitor in the district Spelling Bee. As a Muslim, he was victim to Bee official Tom Tucker's stereotypes, such as Tucker unable to pronounce Omar's last name, and giving him last names related to the September 11, 2001 terrorist attacks, such as "Omar North Tower". He appeared in "Tales of a Third Grade Nothing".
Ad blocker interference detected!
Wikia is a free-to-use site that makes money from advertising. We have a modified experience for viewers using ad blockers

Wikia is not accessible if you've made further modifications. Remove the custom ad blocker rule(s) and the page will load as expected.