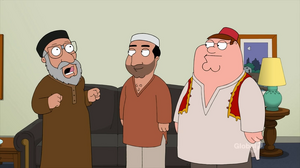 Omar is a teacher-guide that Mahmoud takes Peter to see when he decides he wants to learn more about Islam in "Turban Cowboy". Mahmoud points out that Omar can even teach Peter how to ululate, or make the wail of grieving Arab women. He describes is as starting the song "La Bamba" without saying the "La Bamba" part. Peter gives it a try but finds he can't resist finishing it.
Ad blocker interference detected!
Wikia is a free-to-use site that makes money from advertising. We have a modified experience for viewers using ad blockers

Wikia is not accessible if you've made further modifications. Remove the custom ad blocker rule(s) and the page will load as expected.